Welcome to ArtWorks venue: A Community of Art enthusiasts
Artist
Adele Whittle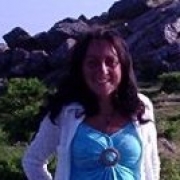 From: United Kingdom
Joined: March 01, 2011
Web: adelewhittleart.blogspot.com
Connect
Fans

About
I live in south west Wales, within walking distance from the Gower Peninsular, which was the first place in Britain to be designated as an 'Area of Outstanding Natural Beauty'. The Gower, with its 70 square miles of stunning cliffs and beaches is where I like to spend my days painting, sketching, taking photos, collecting sea glass for my jewellery, hiking, swimming in the sea, and camping. I find the Gower is an endless source of inspiration.

I grew up near Preston, Lancashire, England. I have lived in various places in England and have also travelled, worked and volunteered in many countries in Europe, South America, The Middle East and Canada. I am a self taught artist and I have learned mostly through experimenting. I discovered my love for painting in 2005 when I lived in Spain.

Most of my art is inspired by nature and the imagination. I like to paint seascapes and other sea related themes as I am particularly fond of the sea. Trees are another subject that I love to paint - either realistic or semi-abstract. I often paint trees from my imagination, or from memory if I have seen an unusual tree whilst wandering in the woods.

My favourite subjects to paint are those that are constantly changing. For example, the sea looks different according to how calm or rough it is and also according to lighting conditions. Trees are fascinating subjects to paint as there are so many varieties. They also change with the seasons. Clouds are also constantly changing and are one of my favourite subjects to paint. I also love to create impasto paintings as I enjoy experimenting with texture and colour.

I also make jewellery from the sea glass and sea pottery that I find on various Gower beaches, including some miniature wearable paintings on sea glass.
Adele Whittle's artwork
All items