Welcome to ArtWorks venue: A Community of Art enthusiasts
Artist
Doranne Alden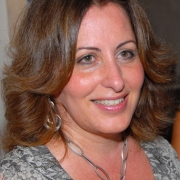 From: Malta
Joined: March 04, 2009
Connect
Fans
About
Doranne Alden is a professional graphic designer and artist. As an artist, her preferred painting medium is watercolour based media. In particular she is drawn to using a liquid watercolour (ink) which enhances the boldness and sharp contrasts in her work.

Her work has been referred to as 'little jewels of art' in the 'Ammersee Kurier'; as 'natural without being too realistic' a phrase by Thomas Wellens in the 'Weilheim Tablett'; Marika Azzopardi coined the epithet 'warmth and mouth-watering mellowness' for her fruit (pears) in the 'Weekender' the culture section of 'The Times' a local paper. Alden's paintings form part of several private collections in Malta and overseas. One such work holds pride of place in the foyer of the Munich International School, Percha Bavaria.

Doranne Alden is the daughter of a well known Maltese watercolourist Albert Caruana and is married and has 2 children.


Doranne Alden's artwork
All items