Welcome to ArtWorks venue: A Community of Art enthusiasts
Artist
Jarle Rosseland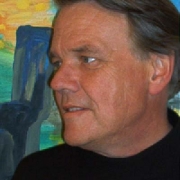 From: Norway
Joined: March 11, 2009
Web: www.rosseland.no
Connect
Fans

About
Jarle Rosseland was born in Bergen in 1952.
He made his debut at the Norwegian National Annual Autumn Exhibition in 1970 at the age of 18, and is currently one of Norway's most prominent artists. He has had more than 290 exhibitions throughout the United States, Canada, Asia and Europe, whereof 32 in National Museums. He is represented in permanent collections and Museums in Norway and abroad.
"Jarle Rosseland is an exciting artist who creates an authentic atmosphere through his sensitive combination of clean surfaces, free lines, contours and ornamentation coupled with his composites of bizarre colours and nuances. His paintings are often characterized by a use of historic elements in his landscapes as well as traces of traditional folk art. Despite all of these varied impulses, his images are nonetheless simple and approachable, appealing because of both their beauty in form and the thoughts their contents call to mind". By Jurai Baldani, art critic. Zagreb.
Rosseland's production spans a variety of techniques. He has illustrated books, produced several series of graphic artworks depicting the Norwegian landscape, undertaken major sculpture commissions, designed porcelain, glassware, jewellery, and also textile art.
Jarle Rosseland's artwork
All items