Welcome to ArtWorks venue: A Community of Art enthusiasts
Artist
Amanda Zammit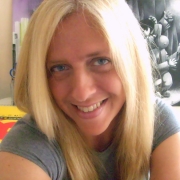 From: Malta
Joined: July 16, 2009
Web: http://amandazammit.wordpress.com/
Connect
Fans
About
I was born in UK, Stratford Upon Avon and lived the first 20 years of my life in Birmingham where I studied art among other things. I now live in Malta which is a small island just under Sicily in the heart of the Mediterranean.

Artistically inclined from an early age I explored all fields of art that enabled me to be expressive and creative. I learned to dance, performed on stage. Music has also been a huge part of my life. Piano, Clarinet and flute.

I love the challenge of something new, adapting to anything I put my mind and soul into. As Pablo Picasso once said "I am always doing things I can't do, that's how I get to do them." Satisfaction and achievement come from this, because if you don't try you never know what you are capable of.

I have been influenced by many things through my life, from one whim to another including everything that surrounds me. I have been greatly influenced by theatre, dance, my dreams and desires. Cubism holds a great interest with me, a 20th century avant-garde art movement, pioneered by Pablo Picasso and Georges Braque.

I also design and build puppets.
Amanda Zammit's artwork
All items