Welcome to ArtWorks venue: A Community of Art enthusiasts
Artist
Jenny Floravita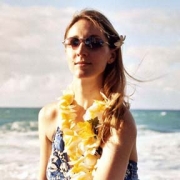 From: United States
Joined: May 16, 2009
Web: http://www.floravita.com/
Connect
Fans
About
Floravita's background includes an extensive education in the arts. By the age of four she began her studies in dance and shortly thereafter she proceeded to art and piano instruction with the same intensity to excel in each new endeavor. Jenny went on to win awards with her art and dance through her school years and to continue on at the University of California Santa Cruz where she completed her formal education in art. She then went on to work in graphic design until 2002, when she decided to devote herself to her fine art.

In 2007 Jenny Floravita was introduced to the exciting world of painting on glass. She creates an elegant line of hand painted reverse glass chandeliers complete with custom iron fixtures. These are highly collected. She also creates tropical paintings in both watercolor and oil. Jenny Floravita is a full-time professional artist.


"The tropics have always been a place that I hold dear in my heart; the air and it's dense humid nature; the scent of the Caribbean; the hues and textures of the cocoa palm— I love everything about the tropics." It was in Florida while attending a reception of her work at an international gallery that Floravita discovered the wonderfully serene and world re-known Fairchild Tropical Botanical Gardens. "I knew that my career as an artist would be forever changed by this enchanting eighty-three acre tropical wonderland. I realized that Florida was only a wonderful beginning of a whole lush equator awaiting me!
Jenny Floravita's artwork
All items