Welcome to ArtWorks venue: A Community of Art enthusiasts
Artist
Katerina Koehlerova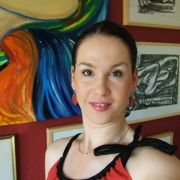 From: Germany
Joined: May 01, 2009
Web: http://galerie-katerinakoehlerova.meinatelier.de
Connect
Fans
About
Welcome!

"To be an artist you have to give up everything, including the desire to be a good artist."
Jasper Johns

I was born 1976 in Prostejov, Czech Republic.

Fine Arts, Music, Literature have been since my childhood true companions in my life.
I have had a great support from my parents and from my husband who have encouraged me to paint and draw freely in order to love art for art's sake going back to nature, feeling liberated in my expression, perhaps to oscillate between the choice of decorative and structural motives. Only in one point in each style is the possibility of equilibrium found, in which a search for the strength of expression and at the same time emotional lucidity never ends...

In those following years between 1990-1994 my interest took me to the School of Applied Arts in Uherske Hradiste in order to achieve needed painting skills under the direction of two wonderful academic painters Mr. Miroslav Malina and Ms. Blazena Uiberlayova.

Many travels abroad and one Foreign Student Exchange Programme in Ipswich in Great Britain enabled me to develop myself as a sensitive artist with an acquired painting style of my own.

My motto follows the thoughts of the 19th and the beginning of the 20th century artist Pierre - August Renoir that a picture should be something charming, beautiful and harmonious, because there are too many unpleasant things in this world.

Group Exhibitions:
1996 - The pedagogical faculty, Charles University in Prague, Czech Republic

1997 - Student Cafe, Palacky University in Olomouc, Czech Republic

2004 - Plumlov Castle, " Plumlov Walks " in the Czech Republic

2009 - AWO Bildungswerk in Solingen - Stadtteilbüro Nordstadt der Arbeiterwohlfahrt ( 18.09- 20.09.2009) Group exhibition of Contemporary Art. Artists from Austria and Germany present over 100 artworks in the German city of Solingen

01.09.2010 - 26.09.2010
SOLO EXHIBITION of Oil Paintings and Drawings under the Title: "JOURNEY THROUGH LIFE"( Reise durch das Leben).
Place: Café und Buchladen Ypsilon,(Coffee Bar and a Bookshop "Ypsilon") Berger Strasse 18, 60316 Frankfurt am Main, Germany.

Private View: 4th September 2010 at 6:30 p.m.

Spoken word by Mrs. Marzieh Taheri- Shad

Two poems in Czech by the Czech Poet Ivan Blatný (1919-1990)and /also in the 2005 German translation/ from the book: "Old Addresses" (Stará Bydliště), written originally in 1979, will be presented to the audience.


Katerina Koehlerova's artwork
All items