Welcome to ArtWorks venue: A Community of Art enthusiasts
Artist
Dinesh Doshi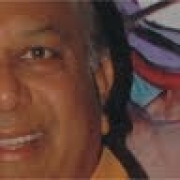 From: United States
Joined: September 11, 2012
Web: http://www.dineshdoshi.com/
Connect
About
Dinesh art work has evolved from Mumbai 1963- to New York 2016 from simple subject matters to complex compositions.

The abstract nature of his oil paintings tell stories, that sometimes he doesn't even comprehend, yet still giving him great joy.
​
"At the age of 21 I had a solo exhibit at Jehangir art gallery which was the most reassuring period of my being and carving a path of a painter. It identified me as a painter. The success of the show and the great reviews convinced me of making a commitment to pursue art for the rest of my life." - Dinesh Doshi

Dinesh exhibited at age of 63 in Chelsea NYC at Emmanuel Fremin Art Gallery, showcasing his works of "Life In Motion" Which reassured himself of the journey he had once taken at a young age.
Dinesh Doshi's artwork
All items