Welcome to ArtWorks venue: A Community of Art enthusiasts
Artist
Birute Nomeda Stankuniene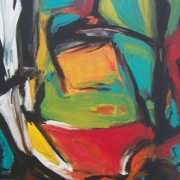 From: Lithuania
Joined: March 25, 2012
Web: www.menudirbtuves.lt
Connect
Fans

About
Good day. I am Birutė Nomeda Aukštuolytė Kisielytė Stankūnienė. I am a painter and designer working and living in Lithuania, Vilnius.

To create- to paint for me means- to think, communicate, solve, discover. To meditate upon what it's like to be a human, the relationship between me and the others. To create- is to ask other people and try to find the answers yourself; it is an effort to generalize the day-to-day experience.

While creating, I care about the search for authenticity, naturalness, integration and expression of the inner being.

As for now, I work using traditional methods. I paint with oil, acrylic paint, on the canvas, cardboard, paper. I almost always select intensive, pure colours. However, in my works I use them temperately. I try to achieve contrasting and laconic effect. I am keen on painting with pastel. I also spare some time for design objects.

Birute Nomeda Stankuniene's artwork
All items